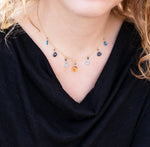 Citrine & Topaz
November's birthstones are Citrine and Topaz! 
Citrine is a golden stone that is said to symbolize happiness, health, vitality, prosperity, and good fortune. Some say that wearing citrine can lift spirits, help achieve goals, and promote emotional well-being.

Topaz symbolizes love, affection, and healing. It is also said to bestow strength and intelligence on the wearer.